Placed at the intersection of the Souss' Valley and the mountains of High-Atlas, Taroudant the South Pearl gives a great sense of the moroccan south.
---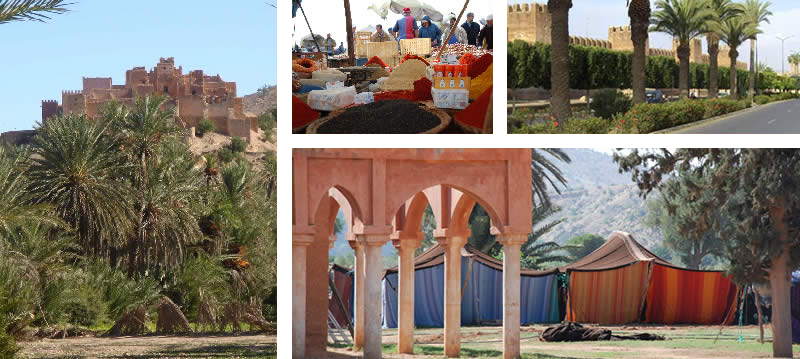 ---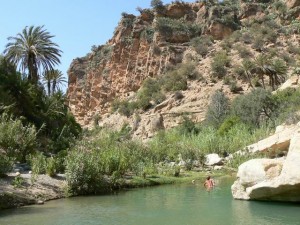 Palais des Sables' excursions
The Atlas' terraces : 90 minutes away, through gorgeous mountain roads you can access to the view from the green gardens of Afensou's oasis and to the high peak of the High Atlas culminating at 3500m. Luc Tromme will welcome you in a wide range of activities going from hiking, biking, cooking, painting or savage camping, adapting to your level and expectations, for a couple or your whole family.
---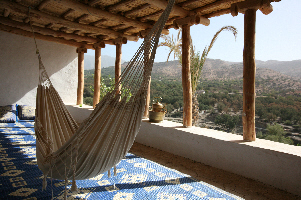 Some distances
Taroudant Agadir = 76 Kms
Taroudant Tiznit = 150 Kms
Taroudant Marrakech = 225 Kms
Taroudant Essaouira = 258 Kms
Taroudant Ouarzazate = 290 Kms
---
Activities inside and around Taroudant
The Palais des Sables has become very creative to offer you the most diversed activities in Taroudant and its surroundings.
Inside your Palace
Swimming pool
Ping-Pong
Cooking lessons
Poker card game
Traditional hammam with wood fire
Massage
Aesthetic care
7 hole mini golf course
Darts game
Library
Choice of DVDs
Satellite cable
Wifi
Turtle racing organization
Chameleon hunting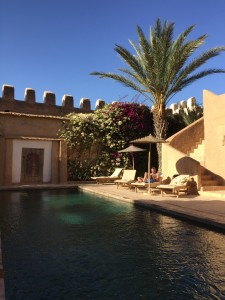 ---
Activities around Taroudant
Discovery of the beautiful city of Taroudant, also called the small Marrakech, and its seven kilometers of ramparts surrounding the medina. On foot, horse-drawn carriage, biking.
The arabic and berber souks where fruits, spices, berber jewellry, antiquity, art and traditional moroccan decoration are displayed next to one another.
The sunday market on Tamaloukt's road; a real sight.
The tennis club
The equestrian center
Tour of Taroudant's tannery
Tour of an argan oil's factory.
Horseback riding excursion: The horses come to pick you up in front of the Palais des Sables for a short ride out or an excursion lasting a few days.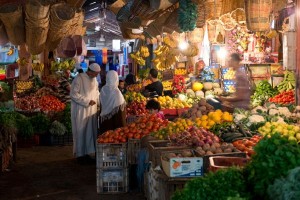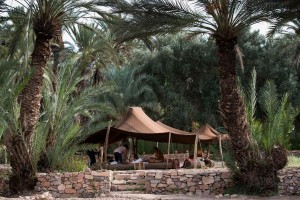 ---
Activities around Taroudant
The berber city of Taroudant is snuggled at the feet of the High-Atlas and Anti-Atlas that provides it with many great possibilities for excursions to the discovery of beautiful landscapes and picturesque and authentic berber villages.
Tour of a non turistic souk in the mountains
Excursion or stay with the High-Atlas' berbers: traditional meal, cooking classes, fire wood hammam, henne, massages, music, dancing,…
Discovery of the Souss' Valley: picnic under the olive trees, tour of a farm,…
Hikking or trekking in the High-Atlas
Riding on donkeys
Biking down the mountain
Rafting on a oued
Swimming in a torrent, in natural basins, under a cascade,…
Savage camping in the mountains
Mini sport or intellectual challenge in the wild or inside the medina
Tour of Paradise Valley
Excursion on the savage beaches surrounding Agadir
Tour of an oasis
4X4 tour in the High-Atlas: Tizi n'Test's pass, Taliouine, Ifni's lake,…
4X4 tour in the Anti-Atlas: gorges, mountain oasis, Agadir,…
Tour of Marrakech in two or three days
Tiout's palm grove and its argan oil's cooperative
The biblical village of Ryad and its potery's studio
Agadir and its famous bay
Tifnit and its fishing port; a true postcard
---
---
---
---