RIAD TAROUDANT MAROCCO
Welcome to the Palais des Sables, an invitation to share the magic of the Moroccan Riad and to enjoy the calm, relaxation and pleasure of a place of undeniable charm, which will contribute to make your stay in Taroudant unforgettable
Sunny in winter, Taroudant is one of the hottest cities in Morocco with very little wind. In summer, the cold current of the Canary Islands protects it from the Saharan heat.
Average max. temp.
Jan. : 22°
Feb. : 23°
March : 26°
April : 27°
May : 30°
June : 32°
July. : 37°
Aug. : 38°
Sept. : 35°
Oct. : 32°
Nov. : 25°
Dec. : 22°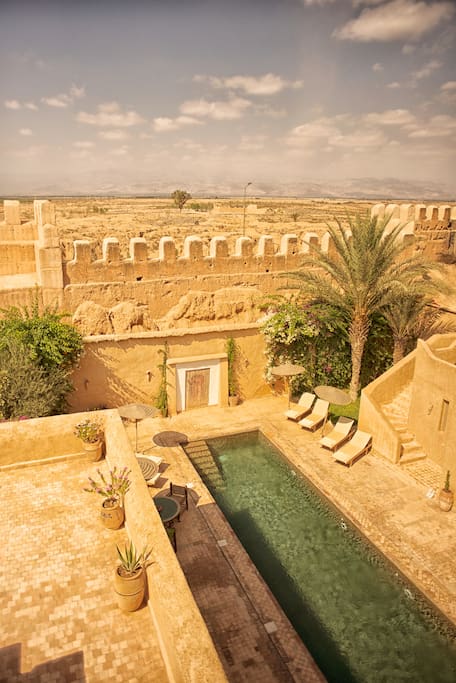 ---
Riad Gallery
---
---
---
Taroudant, the small Marrakech
3 hours from Paris, accessible by low-cost flights and 70 km from Agadir, Taroudant combines the charm of a historic city with its proximity to the Atlas Mountains and the Atlantic Ocean, accessible in one hour's drive. This city is, for that reason, a true representation of Moroccan magic. In the heart of the Souss Valley, Taroudant is one of the oldest cities in Morocco. Surrounded to the north by the mountains of the High Atlas and to the south by those of the Anti-Atlas, Taroudant offers magnificent landscapes suitable for hiking and other trekking, on foot, on horseback or in 4×4.
---
The Palais des Sables is a military bastion renovated in the tradition of the Souss Massa region, and the rooms have been specially designed to immerse the traveller, upon arrival, in the traditions of an authentic Morocco.
Well-being and discovery stays in Taroudant and its region: a whole range of daily treatments provided by our beauticians at home in our traditional hammam with wood fire: massages, scrubs, depilation, manicure, pedicure, rolling, palpating, etc.
Hiking, trekking, or even 4×4, customised excursions are available to Palais des Sables customers for a duration ranging from half a day to three days in the mountains.
New mom stay, a professional paediatric nurse, a savory diet dedicated to lactation, and the treatments given by our masseuse that will make you lose the maternity weight.
Discovery of moroccan cuisine under the supervision of our traditional cook. All the oriental tastes on your table.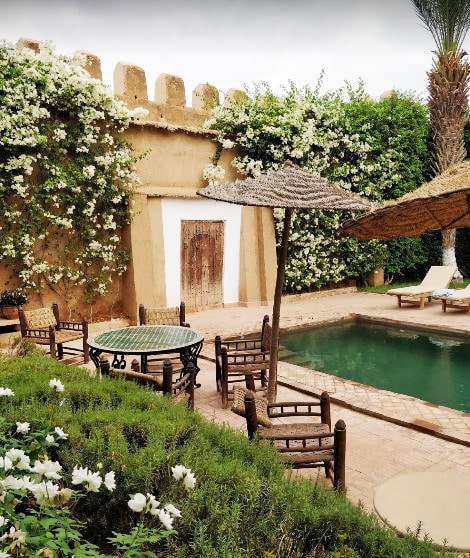 ---
Testimonials & Google reviews
---
---
Also numerous other activities to discover on sight.
Traditional night with singers ans musicians to your disposal. Picnic in the mountains. Day at the sea and so much more…
---