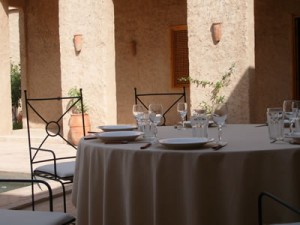 Our cook offers a wide choice of Moroccan dietetics menus, more or less according to your tastes and habits, she will be happy to take you shopping in the Berber souks and will you learn the secrets of Moroccan cuisine, do not miss his sublime couscous with seven vegetables.
The delicious bread oven on the corner of the street will allow you to stock up on hot bread and choose from fresh olives, tomatoes and rosemary unless you prefer to try a pizza workshop over a wood fire...
---

---
Entries
Avocado with hard-boiled eggs and tomatoes.
Moroccan salad with tomatoes, peppers, onions, parsley and coriander.
Potato salad.
Bettrave salad.
Rice salad with low weight, corn and carrots.
Green bean salad
Green salad with grated carrots, apples and raisins, yogurt sauce and lemon juice.
Lentil salad.
Bean salad.
Eggplant zalouk: cold eggplant puree with olives, garlic, parsley and coriander.
Zalouk of zucchini: cold zucchini puree with olives, garlic, parsley and coriander.
Mint tabbouleh.
Harira: traditional Moroccan tomato-based soup.
Miscellaneous soups.
---
Dishes
Chicken tagine with almonds
Chicken pastilla.
Chicken couscous or royal couscous.
Tagine of fish or meat (chicken, beef or sheep).
Vegetable tagine.
Stuffed vegetables.
Meat or fish skewers, sardines on the barbecue.
Potato gratin.
Hachis Parmentier.
---
Desserts
Fruit salad.
Yoghurts.
Grated carrots with orange juice and cinnamon.
Fruit pies.
Fruit platter.
---
Taste or breakfast
Msmen pancakes.
Pancakes 1,000 holes.
Moroccan pastries.
Fresh fruit juice.
---
---
---
---